Art & Design News
20th Annual Juried VSU Student Art Competition
Open to all currently enrolled VSU students, any major
$500 in awards, NO Entry Fee, All Media Accepted
Deadline: 5pm, Friday, Febraury 23
Exhibition: March 19 - April 6, 2018
Enter up to 4 different works, any media
Upload (96 dpi) jpgs to this website: blog.valdosta.edu/studentcomp (See details on website)
Questions? Contact: Julie Bowland, Gallery Director, 229.333.5835, jabowlan@valdosta.edu
---
Valdosta National 2018
All-media Juried Competition
January 16-February 2
Reception and Awards Ceremony: Tuesday, January 16, 6-7:30pm
Gallery Hours: Monday-Thursday: 8:30am-5:30pm, Friday: 8:30am-3pm
Contact: Julie Bowland, Gallery Director, 229.333.5835, jabowlan@valdosta.edu
More than 500 individual works of art by adult artists from across the United States were submitted for the Valdosta State University Dedo Maranville Fine Arts Gallery's Valdosta National 2018. The all-media juried competition and exhibition opens at 6 p.m. on Tuesday, Jan. 16, with a reception and awards ceremony.  
For the 30th annual showcase of contemporary visual art, Linda Hall, Valdosta National 2018 judge, selected 66 works by 54 artists from 26 states to be featured and to compete for $1,500 in awards. The selection process was highly competitive.
Julie Bowland, Dedo Maranville Fine Arts Gallery director and Department of Art and Design professor, described Valdosta National 2018 as "eccentric and raw … with a lot of unusual or unexpected mixed media, including leather, glass, buttons, resin, found objects, sewn rubber with iron, yarn, raku with mummified fish, hand-painted silk filled with sand, cast plastic with polaroid, sterling silver and shell, beverage cans, and ceramic installation, as well as more traditional bronze, oil, graphite, photography, lithography, relief print, acrylic, clay, and intaglio."
Valdosta National 2018 will run through Friday, Feb. 2, and is open to the public. 
Hall is a Tallahassee, Florida-based multimedia artist inspired by the natural world and the human condition. Her watercolor paintings and three-dimensional soft sculpture works have been exhibited in group and solo shows in regional, national, and international publications and venues. Her work has been featured on various music CD covers, in an issue of "New American Paintings," and in online publications of "Oxford American" and "Beautiful/Decay." She holds a Master of Fine Arts from the University of North Carolina at Chapel Hill and is an occasional adjunct professor at Florida State University. 
---
DRAWPROJECT 2018
EXHIBITION & FUND RAISING AUCTION: 1/8/2018 - 2/22/2018
The DRAWPROJECT, hosted each year by our friends at the Annette Howell Turner Center for the Arts, Valdosta GA, is an annual Drawing Invitational Exhibition that serves as a fundraising event for Valdosta State University Art & Design students. Click here for more info.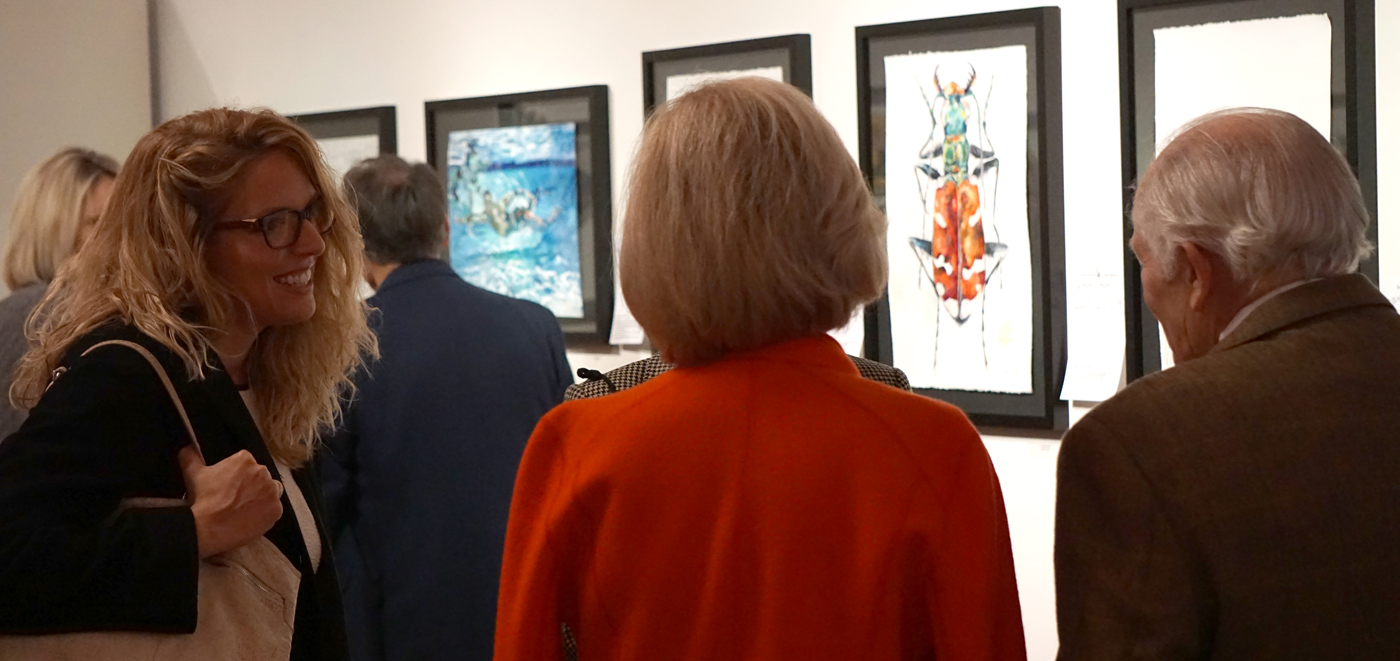 ---
COLLABORATE AND CELEBRATE ALL THINGS VSU
ColorATL inspires ColorVSU

           
Volume 1 of ColorVSU - Available Now!
Our concept is simple; ColorVSU – An Adult/Artist Coloring Book designed by students, current and emeritus faculty, and alumni. The earnings from ColorVSU support scholarships within the Department of Art & Design, which provides financial assistance to students within the BA/BFA programs in Art, Art Education, and Interior Design. Your support is an enduring gift that positively affects our students, and immeasurably changes individual lives.
ColorVSU is a platform for our community to intimately connect with artists while personally experiencing the benefits of creative activity. Each page was created by an artist at VSU or connected with VSU. 
Inspired by William Massey, 2012 VSU Alumni - William founded ColorATL, "a platform for the community of Atlanta to intimately connect with local art while experiencing the benefits of creative activity.  Volume 1 of ColorATL Coloring Book features 45 of Atlanta's best artists- experience the joy and stress relief of creativity while personally connecting with an epic variety of local art."
More information about ColorVSU >
Or contact Michael Schmidt at 229-333-5832, email at mschmidt@valdosta.edu
---
Dedo Maranville Fine Arts Gallery

 

2017-18 Fine Arts Gallery Exhibition Schedule
---
Advising Information & Registration Questions? 

Make an appointment to see an academic advisor today!

Advising takes place each semester around mid-term: 
October (for Spring term) and March (for Summer & Fall terms).
---
Valdosta State University is an accredited institutional member of the
National Association of Schools of Art and Design (NASAD).
Learn more at the official NASAD web-site.  |  NASAD Handbook >
229.259.5121
Campus Address
VSU - College of the Arts
Department of Art & Design
Fine Arts Building
Room 1070A - 1st Floor
Valdosta, GA 31698
Mailing Address
1500 N. Patterson St.
Valdosta, GA 31698
Monday-Thursday
8:00 a.m. - 5:30 p.m.
Friday
8:00 a.m. - 3:00 p.m.